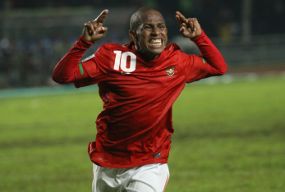 In between 'foreign players' who became a star at AFF Cup 2010, one local name whose name is Okto Maniani most protruding. Alfred Riedl and the team was lucky to get a pearl from Papua.
Before the event AFF Cup 2010, perhaps not many know the figure Oktovianus Maniani. But now 20-year-old footballer to be a shining star among other names such as Irfan Bachdim and Cristian Gonzalez.
Attendance includes mini-sized football player who could make Indonesia a moment forget the football public Salosa Boaz. Players who had become one of the mainstay coach Alfred Riedl was omitted due to disciplinary reasons.
Like Boaz, Okto football team is the product of Papua, which fostered to PON 2008. Then he was pursuing a professional football career in PSMS Medan in the 2009 season.
Unfortunately he failed to bring PSMS survive in Indonesia Super League after losing in the playoffs from Persebaya Surabaya. Last season he decided to move to Persitara North Jakarta.
Fate is not good to see him again because Persitara had to go down the caste. But the impressive appearance and unique individual actions make Sriwijaya FC Papua captivated and ask for her hand earlier this season. Okto went back to look good in Srivijaya and make it into the national team was called Alfred Riedl.
Performance ngototnya on the left wing in a number of trials before the AFF Cup makes Okto seal a place in the starting eleven.
Trust is paid completely by Okto in two AFF Cup Group A match. One assists made Okto when Indonesia won 5-1 over Malaysia and looks inviting click amazed.
In the next game contra Laos, he again performed satisfactorily and contributed one goal this time at the party donated six goals without reply 'Red and White'. He is also dedicate these goals to his family.
"I am happy and proud of the goals that I have printed earlier. I dedicate these goals to his wife and two sons my daughter," he said when met after the match Okto.
Okto further promised to look my best in-game action next Indonesia. The number of senior players on the team this time is very helpful in their performance judged on the gridiron.
"I can play good because a lot of senior players on this team. It's nice to experience and perform better in the future," promised Okto.